DISPLAY SYSTEMS
A conventional trade show booth lacks applications outside the exhibition centers. There are, however, quite a number of other occasions where you may want to make a 3D impression. We have the tools and services to make your appearance successful!


RECEPTIONS AND SHOW ROOMS

Having in-house woodworking capabilities mean that it's easy for us to customize furnishings like receptions desks, static exhibitions, and show rooms. We use about the same methods as when we design and produce an exhibition booth; the major difference is the possibilities to use more exclusive and mind-boggling materials. Installations like these are supposed to survive decades, and must always look fresh and inviting!






FOLDABLE WALLS AND ROLLUPS

When participating in seminars or conventions, there is neither time, nor space, for an ordinary exhibition booth. For such purposes, we prefer working with mobile, foldable walls and RollUps. We help you create the messages and display graphics and deliver complete systems with lighting and accessories. If you want us to, we can also take care of all the logistics for the sales tour and have the show up and running when you arrive at the site!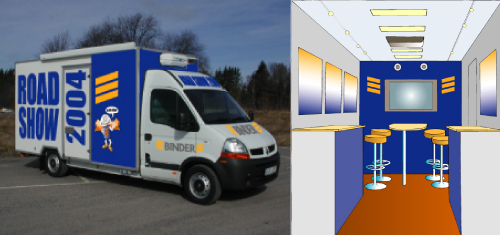 ROAD SHOWS

Hard to find a feasible exhibition? Or to reach customers, who are having problems getting to a conventional exhibition?
In both cases, a road show of your own can work wonders! Made use of in a savvy way, an exhibition vehicle combines the unrivalled strength of the traditional sales call with the trade show possibilities to display the entire range of products and services!

We arrange large-scale "eighteen-wheeler tours" with expansible exhibition trailers (require Class 8 tractors and qualified drivers), but our unique competence is package solutions built on easy-to-handle vans like the one depicted above. We'll help you with everything from finding the vehicle and crew to producing clever interior installations, and designing impressive exterior graphics. You can also rely on us to sketch the tour plan, book suitable "ports of call", and arrange the entire invitation and follow-up chain!


Some Basic Vehicle Facts
Low-bed Renault Master chassis
SKAB superstructure with insulation and wall-to-wall alarm
Class B driver's licence (like any ordinary car!)
Interior measurements: 4200 × 2000 × 2250mm (L × W × H)
Height Clearance: 3100mm
A/C and heater
Integrated strip lights
Audio system with ceiling-mounted loudspeakers
Crank-operated awning over the entrance door
On-board electrical system (230V/50Hz)