Log Cabin Reklam AB is a family operation specializing in design and build-up of re-useable wooden booths for exhibition and event purposes. For the production process, we cooperate with Snickarne Guettler AB of Vasterljung, a carpentry shop with high workmanship standards and state-of-the-art equipment.

We also assist you with everything else you need for your exhibition efforts in particular or your sales promotion in general!

Parallel to the company's main occupation, we also run two modest side activities:


Quilt Production
and related classes. (Vivi Ann Westin)
Narrow Gauge Modelling
of classic Swedish-built motor locomotives. (Jan Ericson)

In Swedish, "broadband" (the communication term) is synonymous with "wide tracks" (what makes a 7.5 ton snow groomer crawl). The pun developed into this rather cool and avant-garde booth at the Stockholm NETWORKS show some years ago!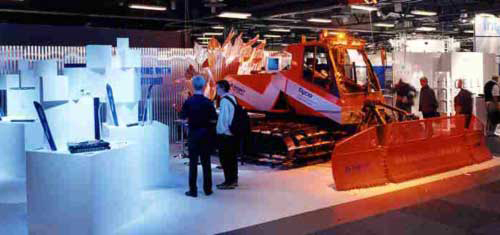 Our company is a member of:
SOLIDITET/D&B TRIPPLE A
3 percent of Sweden's joint-stock companies feature Tripple A credit rating. We're one of them!

DOES YOUR CREW NEED BADGES?
We'll design them, we'll produce them! Metal, plastic, engraved, screen printed...

ROAD SHOW "LITE"
We offer compact promotional vehicles with A/C and all amenities. Buy a complete package, we'll design the interior and exterior – and take care of the logistics!