HISTORY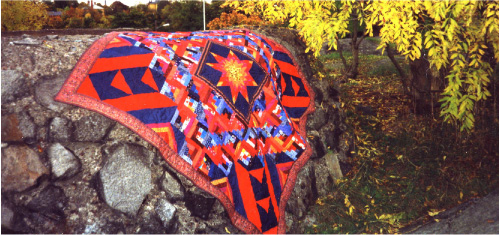 For as long as there has been fabrics, needles and thread, there has been quilting. To sew strips of cloth and leftover pieces of fabric together into larger patches, preferably with warming batting in between the layers, has been a way to economize on the resources and add decorative values to everyday life.

From articles for everyday use to global arts movement

Quilts and quilting can be found in most cultures on this planet. In Europe, the techniques were improved during the 18th and 19th centuries, and the skills followed the English, German and Scandinavian emigrants over the Atlantic to North America, where it became very popular. This European contribution to American heritage has today grown into a national movement with close to 20 million practicians and a total turnover of roughly 65 billion dollars!

Deep roots in the Amish communities

Worth mentioning are the Amish. This clean-living group has its origin in Switzerland, from where they emigrated in the early 18th century for the new settlements in eastern United States. Due to their deep religiosity and ambition to live a simple and uncomplicated life close to Nature, the Amish never got incorporated in the American consumer society. Instead they lived in isolated farming communities, mostly in Pennsylvania, Ohio, and Indiana. Old Order Amish (the orthodox backbone of the society) are still not allowed to use motor vehicles, electricity, phones, and other amenities, but are reduced to horse or mule propulsion for their transportation and agricultural needs.

The geometrical and strictly colored quilts play an important role in the everyday life of the Amish. When somebody is in need of a new bedspread, the neigborhood ladies still get together for a quilting bee where a new quilt is produced as a group project over a short period of time. If you want to know more about the Amish and their quilts, www.800padutch.com is an excellent link!

My own background

My name is Vivi Ann Westin. I have been sewing all my life, but it was not until visiting Lancaster County, Pennsylvania, (the Amish heartland!) in 1990 I was introduced to the wonderful world of quilting. Inspired of what I saw, I returned home with a suitcase filled with locally bought fabrics. Since that day, few things but quilts have left my sewing studio! We have then returned to the United States every year (sometimes multiple visits!) and roamed all the lower 48 states to build a collection of fabrics – for the quilter, the fabric stash is what the pallete is for the painter!

Over the years, I have finished a number of quilts to order, participated in several contests, and conducted technique classes all over the Nordic area. I truly enjoy visiting quilt shows and exhibitions, to read quilt books, to browse international magazines, and to learn about new methods. But it's also a great feeling to develop new techniques of my own and pass them on to fellow enthusiasts! (Click on "CLASSES" for a list of subjects and a current calendar.)


Our eagle-eyed studio dog Svante, a now six-year-old American Staffordshire Terrier, monitors the working area and all the fabric stashes.