PROTOTYPES

Most Swedish motor locomotives operating industrial railroads have been of German origin. In the early years, brands like O&K Montania, Oberursel, and Deutz dominated the market, but pretty soon Swedish manufacturers started courting the customers' approval.

Into the 1910s, three companies had estiblished solid market positions and stood out from the "critter crowd" with distinctive, well thought-out product ranges:


Warrant (Vara Gjuteri och Mek. Verkstad AB, Vara)
Soderblom (Soderbloms Gjuteri AB, Eskilstuna)
June (AB Jonkopings Motorfabrik, Jonkoping)



Over the years, the pioneer trio was challenged by more modern manufacturers like Bergbolagen, John Bergman, EWL, Industridiesel, Sala Maskinfabrik, and AB Slipmateriel.

In the 1950s and 1960s, brands like AGV, GIA, and Oskarshamns Varv entered the scene. The latecomers specialized in compact designs mainly intended for tunnelling and contractors' use. There are still active narrow-gauged locomotives to be seen in Sweden. The few remaining survivors are mainly to be found in southern peat industries and sporadic tunnelling projects.

The first of our two models belongs to the classic pioneer trio. In its own way, the second one is a classic, too – but some twenty years younger.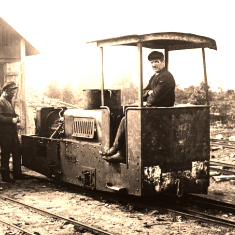 SODERBLOMS GJUTERI AB, ESKILSTUNA

The company was established in 1877 as a foundry and repair shop. In course of time, steam engines and dairy equipment was added to the product roster, and in the beginning of the 20th century Soderblom's started to manufacture trucks, motorcycles, rail speeders, stationary motors, and internal combustion locomotives. In 1916, the company was sold to Luth & Rosén Elektr. AB, a manufacturer of electric equipment who was in need of foundry capacity. Luth & Rosén was later incorporated with the ASEA group (today ABB).

The trucks and locomotives were listed in a common numerical series, but a complete works list doesn't seem to exist. Some thirty locomotives have been identified, and the known number of trucks is about the same. The highest known works number applied to a locomotive is #193, so we may face a gray zone of perhaps up to 100 vehicles on either rubber or steel tyres!

According to preserved Söderblom data sheets, the locomotives could be ordered in four standard sizes: 10, 12, 20, or 24 H.P. The two smaller classes were the most popular, only on 20 H.P. and two 24 H.P. locomotives have been identified. (Two locomotives with 18 H.P. motors are also known!)

The locomotives were equipped with Söderblom's own vertical four-cycle engines with two, three or four cylinders. The little 10 H.P. model featured a two-cylinder motor, that was started on gasoline but switched over to cheap kerosene when warmed up.

Two Söderblom locomotives in close-to-original exterior condition are preserved in Västergötland, while an undercarriage with modern superstructure is still used by a peat industry in Skåne.




SALA MASKINFABRIKS AB, SALA

Sala Maskinfabriks AB was founded in 1895 and started as a local machine shop. In 1924, the company was sold to Tornborg & Lundbergh (trade mark: TORNO), a machine supplier with a strong position in the Swedish sawmill industry. In the early 1930s, Swedish insurance companies decided to accept the use of diesel motors with approved spark arresters in sawmills. The CEO of Tornborg & Lundbergh held a patent for a waterborne spark arrester, and hence a new market opened to the company!

During the 1930s and 1940s, a total of 66 internal combustion locomotives were manufactured. Most of them were equipped with English Lister diesels, but during WWII some locomotives had Swedish-built Albin engines installed. The locomotives were subdivided into three different classes (B, H, and W) and became quite popular with industries all over Sweden. Thirty-six of them were sold to sawmills, often in combination with rod-coupled and locomotive-driven TORNO loading pile elevators.

Our model is a typical W-8 locomotive (class W with an 8 H.P. engine). The major prototype has been works number 133/1938, the only locomotive delivered with folding chimney. Some typical features have also been added from other W-8s.

After having produced five battery and four trolley locomotives, the locomotive era in Sala ended in 1953. A handful of Sala locomotives can still be seen in the museum collections of OSlJ, Frovi Maskin- & Bruksbanemuseum, Foreningen Landabanan, and Banmuseet in Angelholm.

Further information about the Sala locomotives is given in the SJK book "Loktillverkningen vid Sala Maskinfabriks AB aren 1932-1953" (ISBN 91-85098-96-5). The book has a summary in English and is still for sale – visit the SJK Web Shop.