TECHNICAL INFORMATION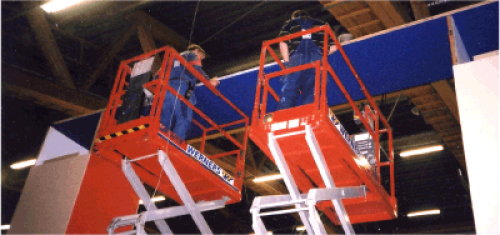 You must have something interesting to display and be mentally prepared to achieve your exhibition sales goals.

Equally important is rising above the exhibition floor noise so the visitors are drawn to your booth, enter it, and begin to talk.

If you choose a simple low cost solution (like the basic shell schemes offered by some organizers), you may not yield the results you were hoping for.

If you, on the other hand, choose a scratch-built wooden booth built to your specifications and destroyed minutes after the show closes, you'll probably attain your goals - but hardly at a digestible cost!

As builders of multi-recyclable wooden booths, we stand out from competition. Giving a somewhat simplified picture, you could say that we're offering the looks of a scratch-built wooden booth at the price of a regular shell scheme booth.

If you chose us to be your expo-marketing provider, you'll still be able to prescribe the booth contents in detail. We'll prepare a drawing, a 3D color sketch and (if needed) a little cardboard model in 1:50 scale. You can also choose from different lighting solutions (trusses or booth-supported spotlights) and flooring materials (carpet tiles, wall-to-wall, laminate flooring, or rustic barn floors – or why not try concrete paving tiles or real grass?).

When the details are settled, we'll take over all technical and logistics matters and run the project until it's time to deliver. The day before the show opens, you and your crew arrive to move in and take charge of the turnkey booth.

It can't get any simpler than that!

We use our own, in-house developed modular system. The walls and fascias are 50mm thick and hooked together to form the design in question. In most cases, a rental solution offers the best economy; all you buy is the customized carpentry (if any).

The advantages of a Log Cabin design can be summarized as follows:


Solid and sturdy design with excellent fascia and wall load capacity.
Unique possibilities to introduce curved forms (walls, fascias, arches, vaults).
Every booth is painted on site in the nuances and patterns of your choice!
Heavy display items and shelves can be mounted directly to the walls.
Warm and welcoming impression on visitors!
Recycling and water-soluble paint make our productions environment friendly.
In spite of the added value, our pricing is comparable with regular shell schemes.